Watch Lunchbox & Eddie Of 'The Bobby Bones Show' Get Soaked
No one can deny the scorching heat when in Austin, Texas, particularly during the 2017 Daytime Village At iHeartCountry Festival, A Music Experience By AT&T, which included performances from Lindsay Ell, Kane Brown, Tucker Beathard, Chris Janson, Jon Pardi, and Kip Moore.
However, both Lunchbox, co-host of "The Bobby Bones Show," and Eddie, producer to the show, kept cool in the 88-degree weather on Saturday afternoon (May 6) when they both took the dunk tank seat and got soaked in our giant red solo cup.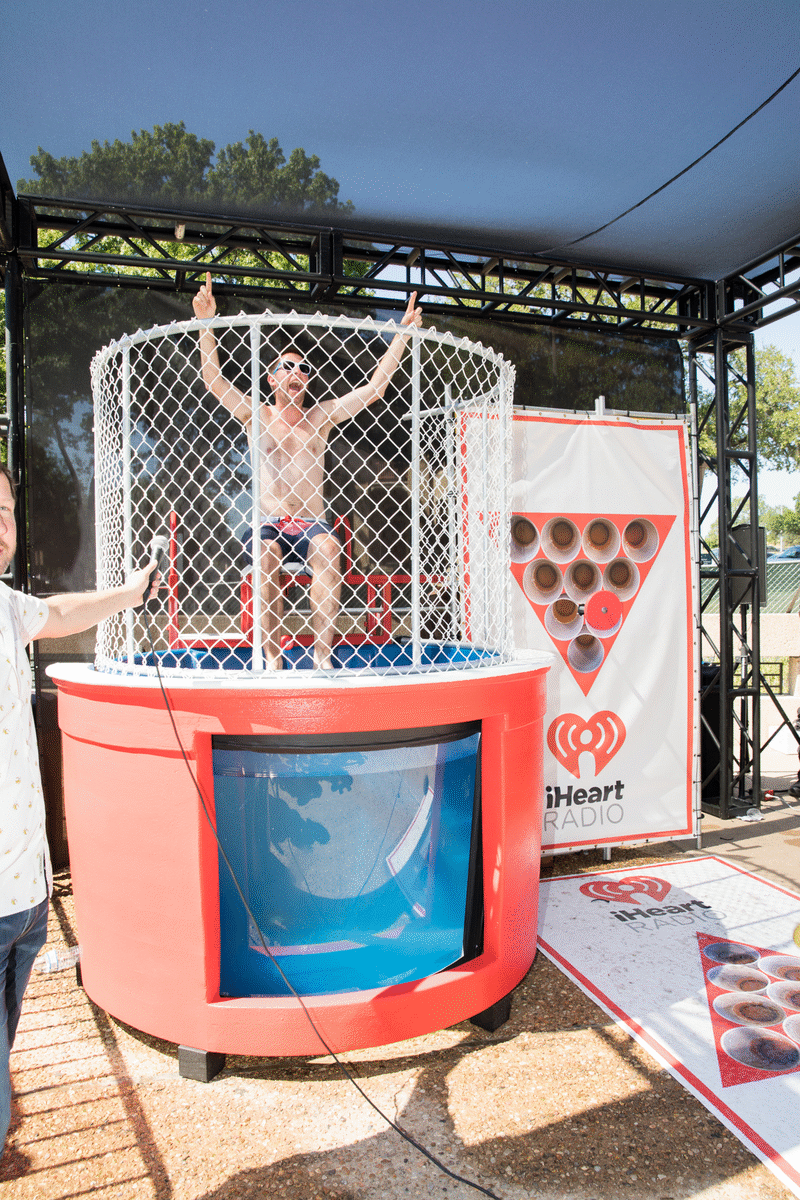 Halfway throughout the Daytime Village, the verdict was announced to the public, as per votes from Facebook Live, launching Lunchbox into the dunk tank seat. iHeartRadio made the challenge even more worthwhile, matching every vote in the showdown with a dollar donation to St. Jude Children's Research Hospital. To everyone's surprise, Lunchbox splashed into the tank on Eddie's second throw, but we're guessing it didn't feel all too bad, considering the heat.
Even though Lunchbox received the most votes, Eddie also partook in festivity and hopped into the tank, courtesy of fellow "Bobby Bones Show" sidekick Nada. "Do you guys think Eddie should get dunked, too?" she asked the crowd, maneuvering the producer into the tank. "Eddie deserves to get dunked, too, for charity, right?"
iHeartCountry, a music experience presented by AT&T, locked down country music heavyweights Jason Aldean, Little Big Town, Rascal Flatts, Lady Antebellum, and others on the main stage. iHeart's very own country radio personality Bobby Bones is doing double duty as host and performer with his band, The Raging Idiots.
You can re-live the iHeartCountry Festival during the special TV broadcast on May 19 at 9 p.m. ET/PT on Audience via DIRECTV Channel 239, DIRECTV NOW, or U-verse Channel 1114.
Photo: Mariel Tyler for iHeartRadio

iHeartCountry Festival
Get all the details on our 2019 iHeartCountry Festival on May 4, 2019 at the Frank Erwin Center in Austin, TX.